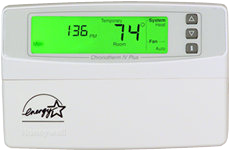 As easy as many of the appliances you use every day. In fact, this thermostat arrives preset with an energy-saving schedule that will fit many lifestyles. Or you can customize the program in only a few minutes. For short-term temperature adjustments, use the up and down arrow keys. And one touch of the daylight savings time key automatically sets ahead or back the time according to the season – no reprogramming required!
Power stealing (T8600), hardwired (T8601), and battery powered (T8602) models available for virtually all equipment and application needs.
Heat pump systems (T8611).
T8602 provides electronic control of the following applications: 24 volt single-stage heating and cooling systems, 750 millivolt gas heating only systems, or 750 millivolt gas heating systems with 24 volt cooling systems.
Full seven-day program capability; different schedules and temperature setpoints may be selected for everyday to fit any schedule.
Copy key makes programming easier and faster
Daylight Savings Time (DST) key for quick change in and out of Daylight Savings Time.
Models available with programmable fan operation for added comfort.
Easy temporary temperature setpoint changes for current period, vacation hold (1 to 255 days) or indefinite hold adds to your comfort and energy savings.
Frequently used keys are located by the Liquid Crystal Display (LCD) for quick and easy access to information.
Attractive styling complements any décor.
Back lighting the large display makes the LCD very easy to read.
Models available with outdoor temperature sensor capability for homeowner convenience. The sensor is also more accurate than a thermometer.
Configurable features:°F or °C temperature display;
Automatic or manual changeover;
Electric or conventional heat fan operation
Adjustable heating cycle rate.
Minimum off time for cooling compressors and heat pumps helps protect and extend the equipment life.
Adaptive Intelligent Recovery™ control brings the room temperature to temperature setpoint at the programmed time, maximizing comfort and energy savings.
Setpoints are permanently held in memory and retained during power outages for increased convenience.
Universal Versaguard™ Thermostat guards available for added security.