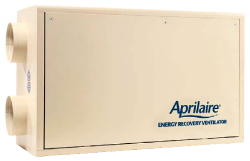 A happy home is a breathable home. Here's a startling fact: According to the EPA, concentrations of toxic pollutants can be up to ten times greater inside a home than outside, even in our smoggiest cities. And today's homes, while more energy efficient, are tighter and can trap contaminants like formaldehyde, radon, and household chemicals. What better way to ensure the constant moving of clean, fresh air into your home than with an Energy Recovery Ventilator system designed to let your house breathe? It's like opening a window without losing energy.
Benefits of an Aprilaire Energy Recovery Ventilator
Provides a constant, controlled supply of fresh air to your home year-round.
Reduces excess moisture content.
Reduces unhealthy indoor air pollutants, such as radon, formaldehyde, smoke, and odors.
Reduces air conditioning load by pre-cooling and removing excess moisture from incoming fresh air during the summer.
Handles up to a 3,600 sq. ft. home and conserves energy by effectively retaining the energy value from indoor air.
Helps produce a quiet, safe, secure, and healthy indoor environment.